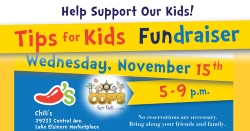 What

Cops for Kids, Inc, "Tips for Kids" Fundraiser at Chili's, L.E.

When

11/15/2017, 5:00 PM

–

9:00 PM

Where

Chili's, 29233 Central Ave., Lake Elsinore, CA 92532
Help support kids!
Cops for Kids, Inc. annual "Tips for Kids" fundraiser
Join LEUSD's community partner Cops for Kids at Chili's for this annual holiday fundraiser. It's the perfect opportunity to help less fortunate children in our community. Donations and tips from this event are greatly appreciated and help with gifts and smiles this holiday season. Law enforcement officers from the Lake Elsinore Station will be your hosts and waiters for the evening. For more information, view the website link below.